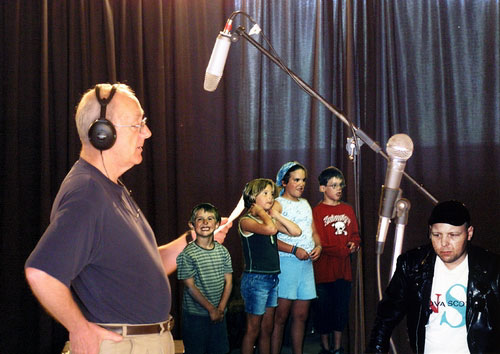 Rudolph the Red Nosed Reindeer - Wayne Franklin
Lead Vocals: Wayne Franklin
Programmed Music: Rob Franklin
Children Vocals: Jill & Mitchell Borden, Jessica & Colton McDonald
Biographies
Wayne Franklin
I am a life-long resident of Dryden and have my wife Shirley and one son Rob,
who is an accomplished musician. I first got interested in music as a student at
Albert Street School when I was chosen to sing in a music competition in Kenora.
I love all forms of music, mainly for the fun and enjoyment of it even though I have
not had any formal training. In High School I joined with two friends, James Schwetz
and Larry Shorrock, to form a trio called 'The Teenaires'. We sang anywhere and
everywhere, and once, we even got paid. I spent an enjoyable time in the 'Serinaders'
group with the only real musical instruction I've ever had coming from Rena Fatheringham,
Mae Denby and Alice Bloomfield. These are fantastic people. I write song lyrics as
one of my hobbies and even recorded one of my songs at Mid Ocean recording studio
in Winnipeg. This was just a fun thing and a cousin in the music industry paid the shot.
I formed the 'Swamp Crickets Band' which consists of Ken Denby, my son Rob and
myself. We also take on anyone else who wants to have fun singing humorous songs
and just goof around. We make them honorary Swamp Crickets, just for the gig.
I also do children's entertaining as "Uncle Dudley the Magic Clown'. I incorporate music,
singing, magic and general all around silliness in the act. I get a lot of fun and enjoyment
from music and even inspired a cousin to go into the music business. It seems when he
was eight or nine he heard me playing guitar at a party and decided he wanted to be
a musician like cousin Wayne. He has since become one of the top entertainers in the
Calgary area. I never ever told him I only know three chords. My biggest inspiration is
Ray Stevens and my biggest influence has been Ken and Jeannette Denby, who have
always been more than eager to help and support me in any way. The people involved
in the local music scene are the best you'll find on this planet, they are the greatest!
Jill Borden
Jill just turned 10 years old. She is a great student, someone her teacher describes as
always having a great attitude and a pleasure to have in the class. She is currently enrolled
in her 1st year voice lessons at Niagara Conservatory of Music. Jill is a member of the
choir at Power Glen Public School and this is her second appearance as a backup vocalist
on a CD produced by her father Gary.
Mitchell Borden
Mitchell is almost 7. He is a popular student with his teachers and classmates. He is looking
forward to starting drum lessons in January and is very active in sports. This is Mitchell's
first appearance on a CD.
Jessica McDonald (age 13)
Jessica started music with the PineWood Fine Arts Program in Grade 6. She plays clarinet
in school and in November of 2004 she joined the Dryden Community Band. Jessica has
been taking keyboard lessons from Ken Denby for about 1 year now. She really enjoys
music and is always singing along to whatever is playing on the radio or stereo. She is thrilled
to be a part of this recording.
Colton McDonald (age 10)
Colton loves to be a part of everything. He is taking guitar lessons from Ken Denby and is
itching to play drums as well. He would rather be dirt biking or riding his snow machine than
to practice his music, but in time that will come. He is constantly making up his own "tunes".
He is very excited to be a part of the Christmas CD along with the rest of his family.
Rob Franklin
I always have trouble writing this type of thing. I always read it and think "this is nothing
but a brag sheet". Nothing I've done I can take full credit for. Every show, every
accomplishment has been the result of a favor or an introduction from somebody else.
All my accomplishments, are the accomplishments of others. I always had a musical
influence. My father sang and played guitar in the living room and at parties. I thought
everybody's dad did. He'd sit me on his amplifier and play while I sang the popular
tunes from the 60's kiddie hit parade. Grandmother had a piano in the basement, I
remember her playing and singing and was in awe, but what she played and sang
escapes all of us to this day. Every Sunday mom would bring me to church, we'd go
up into the choir loft and she'd sing in the choir. It was something special, so I felt
special just being up there and not sitting with the rest of the parishioners. I was fortunate
enough to have parents who could identify my musical potential, at five years old they
bought me a set of drums from the Eatons Christmas catalogue, I'd put an "X" on the
picture that year along with every other toy they had for sale, and I guess dad thought
a duo act in the living room would get good reviews. The drums heads were made of
paper and tin and didn't last very long. In grade school some of the kids got to leave
the classroom and go to their private music lessons, I was green with envy. I suppose
I just wanted to get out of class. I know I wouldn't have practiced at home unless it'd
have postponed bedtime. Christmas morning of 1974 a Honer chord organ appeared
by the tree, Santa heard my wish. I had seen a nine year old on the Don McLean show
playing the organ. Being nine years old myself, he made quite an impression on me.
By the end of Christmas day, I was playing it. At least I thought I was. It was a play
by number system so I played all the notes the same duration. "Long Long Ago" was
far far away from sounding like it should have. Mom and dad seemed impressed, so I
thought I was ready for T.V. . By and by I lost interest, and mother learned to play it.
In 1975 I was taught by a male teacher, who for the first time taught us music during
the music portion of our curriculum. The fact that he would play guitar for us to sing
along to was a huge thing to us ten year olds. He taught a few of us to play ukulele after
school which was I thought was cool too. I could finally play in the living room with my
dad. Dad's guitar was off limits...But what he didn't know wouldn't hurt him...me...well,
a warm butt wouldn't stay warm forever. I learned a couple of chords from the diagrams
in his song books and would secretly try to play. When I finally got caught, I didn't get a
warm butt, I got guitar lessons. Guitar lessons were a bust though, they taught us to play
songs on the guitar not how to "play the guitar". I lost interest. I never lost interest in
music though, in high school I signed up for the music course and fully expected to play
trumpet. Day one saw me sitting behind the tuba. Oh well, at least the music course
would be an easy credit. I liked the tuba, I wanted to play bass guitar when I was
younger and could understand the similarities between the two. Two years later, I
arranged to take lessons on trumpet after school from the teachers assistant. I bought
my own trumpet in 1981 and was assigned third chair trumpet in the senior band in 1981.
Like an idiot I quit school in May of 1982 to work at the local tree nursery, so, another
year in school was necessary. It was the music class that kept me interested in school
and I did graduate, just later than I should have. The summer of 1982 I acquired a set
of Pearl drums and by September I was getting paid to play them. I had owned those
drums for less than two months, had never played the drums before I bought them, and
here I was with a paying gig! I had paying gigs for three years before I ever had a formal
drum lesson. I gig'd every weekend with the Cornerstone band, had decent day jobs and
loved every minute of it! But all good things must come to an end and I took some time
away from all things music. In 1990 I was contacted by Ken Denby to play drums in his
band. I was rusty but needed to get back into it. I missed the stage, and the fellowship
among band mates. I jumped at the chance and went at it cold. Within a month I felt sharp
again. I played in Ken's band for three years doing club rooms, dance halls, weddings, the
local type thing. In 1993 I was selling advertising for the Local Express and doing the music
thing at night in Ken's band when Andrew and Wanda Taylor, a duo act calling themselves
W.C.and Company, came to town looking for a drummer to pick up for the week. They'd
booked into the Central Saloon as a three piece band but had fired their drummer only days
before. Karen Leutchaft introduced me to them and I went to scope them out. I couldn't pass
up the opportunity to try out the bar scene with musicians who were playing for a living. I
toured with them for several months until they went on to a house gig at Paradise Cove in
Minaki Ontario as a duo. I was fortunate enough to be asked to do a few more shows with
them at Paradise Cove where on one occasion Moon Martin, of Cheap Trick fame, was
in attendance. I wasn't able to meet him and was unaware of his presence at the show until
several days later. He kept to himself and didn't introduce himself to Andrew until his fishing
trip was over and his party was leaving for home. He had positive things to say about our
show and acknowledged my ability as a drummer. After Andrew told me about it, I knew
I couldn't ever be satisfied with a day job again. In the fall of that year, Steve Denby decided
he'd rather play in his brother Chris' band, Ken and I were left with no lead guitar player.
This was just what I needed. My cousin, Allan Barrett, who is one of the top entertainers
in Calgary was in town for the weekend. Although he never performed with us, he was able
to give me the incentive to continue, not as a drummer but as a guitar player. I gave Allan
the money I made, at our final show as a band, and he bought a computer which was popular
among solo and duo acts for me. I took a about a year to learn how to program backing tracks
on that computer and play guitar well enough to perform. Ken and I debuted our duo act, the
"Saloon Nuts" on a local telethon in 1994. We played several weekends over the course of a
year and a half. I miss the fun, the fights, the nights we played and the laughs. Ken has taught
me more and influenced me more than anyone except maybe my parents. Late in 1996, Don
Winters showed up in the Central Saloon as a single act. I'd seen him perform in Dryden for
several years under many different names but never as a single. Charles Terris introduced me
to him about a year prior when Don did a weekend as a trio at the sports bar. He invited me
up to do a number as a guest in his solo act. We talked about it after the set and I ended up
finishing the week with him. We agreed to form a duo after he finished up his current schedule
as a single. About a month later he passed through town again and we set out with fame and
fortune on our minds. We did a few weekends around Manitoba, a one nighter here and there
and then came back to Dryden booked for a week in the Central Saloon . I stayed home for
Christmas since it was only a week away, the agent didn't have us booked anywhere else yet.
Since I was home for Christmas, Bob Ewanchuck, the owner of the Central Saloon, asked me
to cover his Christmas and New Year weeks as a single act. Full of confidence, I agreed. I
played one night and the whole building's heating system went down, so, I lost the rest of the
time we'd agreed to. He made up for it though, from that time on, I played over 80% of the
nights for the next year and a half in the Central Saloon, as a single act "house band". But after
that much time in one spot I needed a change, so I went "on the road again" until a catastrophic
equipment failure shut me down. I thought it was going to be permanent, but thanks to mom
and dad, Keith and Carmina Heibert, eBay, a little luck and the aversion to having a day job,
I'm back better than ever. As of late I'm recording in my own home studio using "state of the
art" equipment and a digital multi track recording system. I independently contract for any
studio who'll pay the price. I create backing tracks for live performances, write and record
jingles and arrange and record all the music for my fathers children's shows. Although I don't
perform live on a regular basis, I always want to. Every time I've stepped on the stage it's
because Ken Denby either made it possible through the loan of equipment or through the
moral support and encouragement he gives to all musicians. Dryden would surely be much
less musical if Ken didn't live here. I know I likely wouldn't be a musician. All of us are better
musicians and better people for having Ken and Jeanette as part of our community.