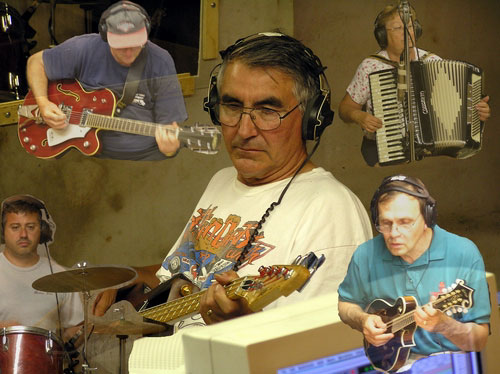 Merry Christmas Polka - the Sounds of the Steppes
Mandolin: Allen Mazurski
Lead Guitar: Tom Stratton
Accordion: Jeannette Denby
Bass Guitar: Ken Denby
Drums: Humberto Pacheco
Biographies
Jeannette Denby

Jeannette's love of music takes her back to the young age of seven, when she got her
first accordion from the Eaton's Catalogue. From 1959 she performed in and around
Thunder Bay, Ontario until moving to Dryden, Ontario, in 1973. She and her husband
formed The Borden Family Band, beginning as a duo, and then evolving into a trio, and
finally a quartet. They recorded the album "The Good Times". Jeannette has worked with
many other musicians in Northwestern Ontario, and Manitoba and has entertained at
every imaginable event. She has also had the pleasure of playing and recording with the
country gospel group Outreach
Ken Denby

In 1955, Ken started his musical career with the country band Curley and the Playboys
playing guitar and singing live on CKDM Radio on Saturday afternoons in Dauphin
Manitoba. He has since performed in a variety of musical venues with numerous bands
and musicians in Manitoba, Ontario and northern United States. Ken also formed
The Denby Family Band. He taught music for the Yamaha and the Suzuki Schools
of Music and owned his own music store called Kenby's Music. He's been teaching
instrumental music privately for thirty-three years and has recorded on ten albums and
numerous singles.


Allen Mazurski

When Allen asked, at an early age, for a violin for Christmas, there was none to be
had, so his mother bought him a mandolin; he fell in love with it's sound. Allen took
mandolin lessons while attending evening classes at the Ukrainian Prosvita Society
School in Thunder Bay. Later in high school, he played guitar, saxophone and clarinet
in the school band, after a lengthy time away from public performing due to education
and career; he brought together the talented musicians to form The Sounds of the Steppes.
Allen enjoys researching Ukrainian music, sharing and preserving the Ukrainian heritage.
He especially enjoys performing and his enthusiasm is infectious. In recent years, he has
fulfilled his childhood wish and now plays the violin as well.


Tom Stratton

Tom started his musical career at the early age of twelve. His father played many
different instruments and encouraged Tom to play the guitar. At one time, Tom
also played the bass guitar. He played his first dance in 1960, and he played for the
princely sum of $5.00 and a case of beer. Gone are those days!! Tom has played
with many musicians, and several bands in Dryden and Northwestern Ontario. He
has performed on telethons, festivals, talent shows, and has entertained at weddings,
anniversaries, socials, old time dances, fall fairs, and the lounge scene. Tom has also
recorded with a country band and a bluegrass gospel group.


Humberto Pacheco

Humberto graduated from McGill University in Montreal as a percussionist, with
a Bachelor of Music Degree focusing on Music Education. As an elementary and
secondary music teacher, he has taught classes in band, strings, guitar, and piano.
As a percussionist, he has performed with the McGill Symphony Orchestra and
the Mississauga Symphony Orchestra. He has performed across Canada and Europe
as a vocalist in various community choirs, as well as an instrumentalist and conductor
in a wide range of music from folk groups to classical ensembles, to rock groups.
He is found on various recordings, and for the last decade has used Midi technology
to compose jingles for radio and television, as well as composing/arranging scores
for jazz and concert bands. In addition to playing drums for " the Sounds of the Steppes"
he also performs with the band "Streamline"and other musical events.