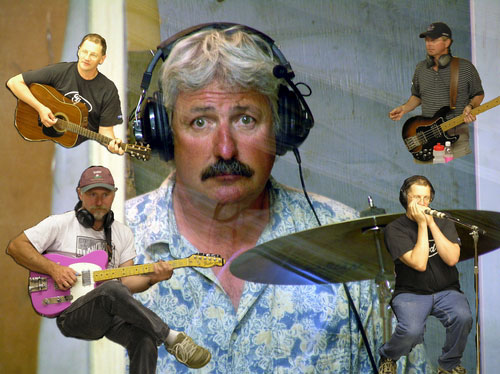 Merry Christmas Baby - Pass the Pineapple
Lead Vocals: Rick Smith
Rhythm Guitar: Peter Cortens
Lead Guitar: Chris Dunn
Bass Guitar: J.B Hewitson
Harmonica: Peter Cortens
Drums: Rick Smith
Harmony Vocals: Chris Dunn, J.B Hewitson, Peter Cortens
Keyboard & Saxophone: Chris Denby
Sleighbells: Humberto Pacheco
Biography
Pass the Pineapple
About three years ago a jam night was set up at a local restaurant. Chris Dunn
spearheaded the jam night and was asking local musicians to come out and play.
Peter Cortens and Rick Smith came out one night and along with Chris, things
kind of clicked. They liked the same kinds of music [classic rock, blues, and country],
and they looked forward to regular Saturday night get togethers.......Rick said he
knew a great bass player that would fit right in. With J.B Hewitson on bass and vocals,
Chris Dunn on Lead guitar and vocals, Peter Cortens on rhythm guitar, harmonica
and vocals, and Rick Smith on drums and vocals, the whole thing came together.
They continued jamming at the restaurant until they were asked to play at a Christmas
Party for "cash money". Who could say no to that? Needing a band name to put
on the tickets, and posters, Rick came up with "Pass the Pineapple" which really
summed it up. And the rest is history.