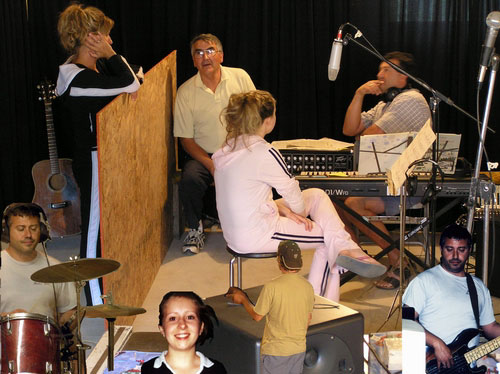 Lead Vocals: Nicole Fradsham
Bass Guitar & Drums: Humberto Pacheco
Electric Guitar: Gary Borden
Biographies
Nicole Fradsham
Nicole is a grade 10 student at Dryden High School. She started singing at the
young age of 14........2003, and has performed on stage about six times. She was
honoured to have the role as "Annie" for the Drama Club. This is considering she
had never sang in public before. She entered the Thunder Bay High School "IDOL"
competition, and has made it to the finals. What a great experience for a young lady
to have already sang a song on a recording........"Let It Snow, Let It Snow"
Gary Borden
Gary is a Dryden grown guy. He started his musical career out by playing drums,
bass and guitar with the Borden Family Band. While living in Dryden he has had many
an occasion to play with Drydenís finest musicians, whether it be at a talent show,
coffee house, telethon, weddings, the Legion , the Moose, or just fun get together.
Moving away from Dryden, Gary has become a seasoned musician who has gained
respect from his peers through his talent, and creativity. He is a graduate of Musicianís
Institute of Technology, in Hollywood California, and has played and recorded with
some of Canadaís top artists. He has worked with several great producers including
the renown producer Terry Brown. Gary works with artists from Nashville, Tennessee,
to Dryden, Ontario as a guitarist and producer, and is currently working on, Juno nominee
Ray Lyellís next album.