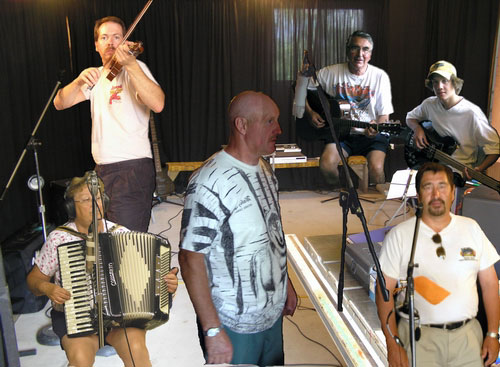 God Rest Ye Merry Gentlemen - Neil Moody
Lead Vocals: Neil Moody
Fiddle: Scott Moody
Banjo: Sandy Campbell
Bass Guitar: Brendan McDonald
Rhythm Guitar: Ken Denby
Acoustic Guitar: Gary Borden
Accordion: Jeannette Denby
Biographies
Neil Moody
Born and raised in the Dryden area Neil has always loved music. Both his
Grandparents, and mother played musical instruments and sang on many occasions.
Neil plays guitar and joins in on any jam session that happens. Him and his wife
Sharon also supplied the facility for the recording of this CD, and also hosts the
Musicians Jamboree, the third weekend in July. He feels very privileged to be able
to perform with his son Scott Moody on fiddle and Grandson Brendan McDonald
on bass guitar.
Hope you enjoy…….."GOD REST YE MERRY GENTLEMEN"
Scott Moody

My love for music started very young. My dad, Neil Moody, played the guitar and
sang. I would always get involved with musicals and play at my old public school,
Sprucedale. Usually playing one of the lead roles I gained lots of confidence to stand
up in front of crowds. I started learning on the guitar at about the age of 8 and then
enrolled in lessons with none else than Ken Denby. I was there for one term and used
my good ear instead of learning to read the music. I still can't read music, all of my
music ability is listening to the songs and playing them over and over. Around the age
of 12, after learning quite a bit on the guitar I became inspired to play the "fiddle" at
camp one weekend when Mel and Sarah Auren came over for a "jam" session with
us. The things Mel could make that fiddle do, made me want to play one. He let me
squeeeek a couple of notes out of it and that was all it took for me to want one. My
uncle, Ray Moody, had an old beater kicking around that he gave to me and I started
to practise. It sounded like an old tin can but I learned a few tunes and thought I was
getting pretty good while I played along with old fiddle records. Dad and I would get
together and jam with either Mel Auren or Bob Oversby, or both. We had a lot of
good times and learned quite a lot from these guys. At the age of around 16, Lorrainne
Malyk got ahold of Louie Haukeness, and Myself to play at Eaton-Rugby Hall. Lorraine
on vocals and rhythm guitar, Louie on vocals and bass, myself on lead guitar and fiddle,
"Country Friends" became our name. We played at smaller functions, got noticed and
gained Tom Stratton, on lead/rhythm guitar, along with Rick Smith on drums/vocals.
Later Louie retired, we picked up Everett Rourke as our bass player and Colleen Nicoll
harmony vocals. We played all over Dryden, almost every weekend starting from the
August Fall Fair until around March. After about three years of playing and running back
and forth to trade school in Thunder Bay, I packed in the band life. This was one of the
greatest musical experiences of my life. The band continued on and became "Cross Road
Country". In 1993 I got married to my wonderful wife Susan, now we have two great boys,
Ben(6), and Will(3). I jam once and a while with dad, my nephew Brendan McDonald,
Ken and Jeannette Denby, who are inspiring Brendan to be better than ourselves. Now my
love is my family, "Ham" amateur radio, and playing around with computers. I'm honoured
to have been asked to play on the "Sunset Country Christmas Treasures" album and dedicated
this website to all of the people who where involved.
Brendan McDonald (age 14)

Brendan started music with the Fine Arts Program at Pinewood School in
Grade 7 at the age of 12. Coming from a musical family he picked up on the
music aspect for Fine Arts quite easily. He played the clarinet and alto saxophone
before moving onto baritone saxophone, which he also plays at Dryden High School.
His love for music grew and he started taking guitar lessons with Ken Denby
in October 2003. By May 2004 he advanced as far as his guitar lessons would
take him, and moved on to the bass. After receiving a bass guitar for his Grade 8
graduation, he had only been playing for about one month before recording on the
Sunset Country Christmas Treasures album in July. He practices every day and
loves to play with his Papa (Neil Moody), and his Uncle (Scott Moody), whenever
he gets a chance. He also enjoys playing guitar or bass with Ken and Jeannette
Denby and learns a lot from Ken. Brendan attends Grade 9 at Dryden High School
and is in Grade 10 music class. He also plays Football for the Dryden High School
Eagles. He is currently taking keyboard lessons with Ken Denby and dabbles with the
mandolin and banjo when he gets the chance. Maybe someday he will make his very
own album.