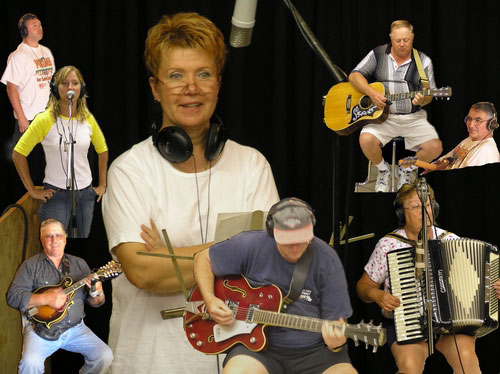 Silent Night - Lorrainne Malyk
Lead Vocals: Lorrainne Malyk
Rhythm Guitar: Glenn Scheibler
Lead Guitar: Tom Stratton
Mandolin: Lawrence Russell
Accordion: Jeannette Denby
Bass Guitar: Ken Denby
Harmony Vocals: Marci Anderson & Humberto Pacheco
Biography
Lorraine Malyk
Lorraine has been playing guitar and singing since the age of sixteen. She has
been lead singer with several bands: "Country Friends"....with Louie Haukeness,
and Scott Moody, later included, Rick Smith, Tom Stratton, Everett Rourke,
and Colleen Nicoll. "Cross Road Country"....with Rick Smith, Tom Stratton,
J.B Hewitson, Mark Schmidt, and Everett Rourke. She started at the Royal
Canadian Legion Talent Shows where the "Ten Bucks on the Road" band was
backup band, and Glenn Scheibler encouraged her to keep singing, and always
asked her up to sing with his band. Lorraine has also been in a Gospel Group....
"Outreach".......with Glenn Scheibler on rhythm guitar and vocals, Tom Stratton
Lead guitar, Ken Denby on bass guitar and vocal harmony, Jeannette Denby
on the accordion, Lawrence Russell on mandolin, Anne Vercruysse on rhythm
guitar and vocal harmony, Karen Bevilacqua on organ and keyboard. This group
has also made a CD. Lorraine's Traditional song on the Christmas Treasure is
..... "Silent Night"