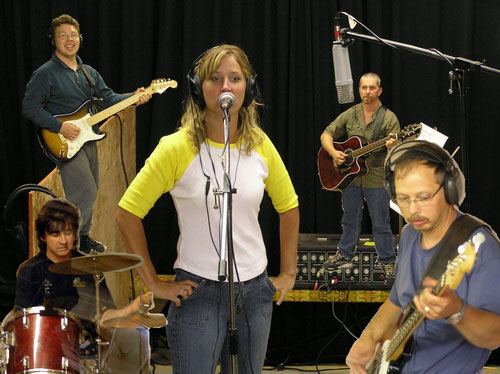 Rockin' Around The Christmas Tree - Legacy
Lead Vocals: Marci Anderson
Rhythm Guitar: Jim Hannett
Lead Guitar: Rod Parr
Bass Guitar: Russ Stafford
Drums: Dale Ripley
Harmony Vocals: Marci Anderson & Rod Parr
Biographies
Legacy
A five piece band formed approximately 5 years ago, newest member Dale
Ripley close to two years. Other members of the group are Russ Stafford on bass ,
Rod Parr lead guitarist and vocal, Jim Hannette rhythm guitar and vocals Marci Anderson
as lead singer. Legacy's former name was The Rugby River Band". They decided to
change the name about 3 years ago Mark Jackson thought of (who at the time was our
drummer suggested "Legacy" we all decided that this would be the new name. Marci
especially liked the name because it represented carrying on her father's musical talents.
Legacy has played in many different areas not only in Dryden but surrounding areas
such as Fort Frances Kenora Ignace .Legacy also had the opportunity to open for
"Doc Walker" this summer at the" Fort Frances Bass Championship "biggest crowd
for Legacy approximately 15,00 to 2,000 people and what a party that was! Members
of Legacy enjoy playing ,they all work really well together to produce many different
styles and tastes that will please any crowd. Music will go from the 50's all the way to
today's new country and soft rock of the eighties and seventies, including old country
tunes .Legacy hopes they will play for many more years and have enjoyed all of what
they have accomplished in these last five years.
Marci Anderson
As far back as I can remember I have been singing since the old eight tracks and old
record albums. I would sit for hours and hours listening to Brenda Lee, Tammy Wynette
and Loretta Lynn. In the neighbourhood I grew up in Fort Frances I used to go over to the
neighbours and they would bribe me with some quarters to sing and dance to songs like
"Rhinestone cowboy". Dad used to take out the guitar and we would have a blast listening
to his goofy songs like Mule skinner, and Sheri Baby. The youngest performance I had was
singing at Grandma and Grandpa Hewitson 50 anniversary my sisters and my cousin sang
"you belong to me", I think we were only about 6 or 7.Alot of years passed and I would
sing when my parents would go out for the evening and drive my twin sister nuts! I just
remember being such a closet singer and no-one knew how much I really wanted to sing.
Although when you hit the teenage years you become shy and I wouldn't even sing for my
parents company, dad would try to get me to but I was too shy,.(hard for some people to
believe that now). Music has been a huge part of my life it helped me through a lot of trying
times in my life .I almost consider it to be almost therapeutic , it just makes you forget about
all the things that are happening around you and all you hear is the music. I didn't sing in
public until I was 23 in which that was a karaoke night down at Coaster's lounge ,which
from then I became a hostess and ran the machine. Over the years I met up with some girls
and we formed a all girl group called "The dirty Blonds"( all of us had the same colour of
hair so one of the girls Shannon thought of it and we thought it was a pretty neat name.
Ken and Jeannette Denby invited me to a telethon about 12 years ago and I thank them so
much for believing in me,(looking back on some of those video tapes I think to my self man!
I'm glad they believed in me )ha ha. 5 years ago I was singing at wedding and Russ Stafford
asked me to try out for his band, I was so excited to be asked and I accepted and I have
been with Legacy,(at the time Rugby River Band) ever since. Working with this band has been
an amazing experience for me, it has brought me to heights I thought I could never reach. We
opened for Doc Walker this year which was really neat and did this song for the Christmas
album. I even got to sing a song with Jason McCoy who I met when he was here in Dryden.
I 'm so blessed to have a husband and four children who allow me to be who I'm and support
my efforts all the way.
Russ Stafford
My parents bought me my first guitar at the age when I was ten. For as long as I can remember
music has been a part of my life. I started playing in my first band in the early 90's we were
called "Countryside" We formed the band Legacy about five years ago, we all plan to be together
for many more years to come. I believe music is a gift a musician is given by their family and if
they are lucky, they are given the chance to share their gift with others.
Rod Parr
From age 15 when I started playing my brother's old guitar I was hooked on it. After cutting
my teeth on church standards for 4 years with my friend and teacher Mark Fichault I set out
on my own and met a group of young musicians at another church in Dryden and we formed
"Mended Heart". We travelled a lot and played from Peterborough to Moose Jaw and anywhere
in between for those who'd have us. A few years later we all parted ways and I was asked to
join the only other contemporary local Church Band called "Gateway". After 2 records and
line-up changes that saw another 2 former "Mended Heart" members join we continued countless
concerts around the area and in Manitoba and had a lot of good times and met a lot of good
people. While still in that band I was asked by a good friend and local musician Mark Jackson to
fill a spot with him in a band called "Countryside" until they played out the last of their bookings.
They were a good bunch of guys and willing to put up with my "experimental mistakes" so they
kept me around 'til the end. At the time I had no idea I was taking over lead guitar from my now
band mate Russ Stafford. After a short time off Mark had called about a few current and former
OPP Officers who were getting their "OPP Bear Hug Band" together. We played a lot of schools
and toured with John McDermott to open all his North Western Ontario shows including Dryden.
I also played a stint with Bill Richards "Second Hand Band" from Kenora off and on for two
years, had a lot of fun and learned a lot about living from those guys. In '99 I was a founding
member of "The Rugby River Band" who would later become the band now known as "Legacy".
Dale Ripley
I have been playing around Dryden for many years in Rock, blues and Country Bands. Some
of the groups were called Shades of Blue, the Hooks and now Legacy.
Jim Hannett
I started playing guitar when I was fourteen years old , I played in the good ole basement for
years like a lot of musicians and some where around 94' I got into my first band, we were called
Country side. We played a lot down at the Legion back then. In January of 2000' I got asked to
play again in a new group that was called "The Rugby River Band" now known as "Legacy" and
as of now we keep on playing for as long as people will have us. Jim Hannett rhythm guitar player
in Legacy