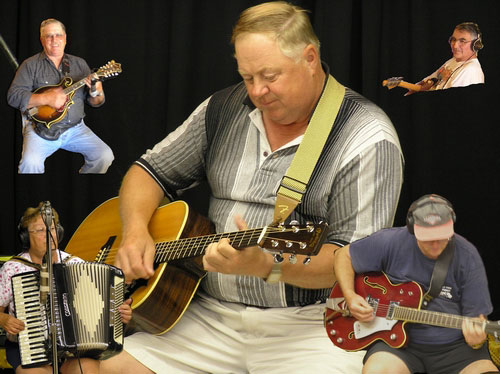 O Little Town of Bethlehem - Glenn Scheibler
Lead Vocals: Glenn Scheibler
Rhythm Guitar: Glenn Scheibler
Lead Guitar: Tom Stratton
Mandolin: Lawrence Russell
Accordion: Jeannette Denby
Bass Guitar: Ken Denby
Biography
Glenn Scheibler
Glenn's first debut at singing started at the age of 3 in the Liddiett school in Manitoba.
The song he sang was…"In the Jailhouse Now". Everybody in the musical field knows
who Glenn is. He started playing guitar and singing seriously in 1964. Over the years
he has played with many musicians. "Ten Bucks on the Road" first came about with
Glenn, Byron O'Donnell, Rick Smith, and Steve Warren. One year later….Tom Stratton,
and J.B Hewitson joined when Byron moved to Winnipeg. This band was listened to and
enjoyed by many folks for many years, and their greatest accomplishment was that of
doing a recording. Besides the "Ten Bucks on the Road", Glenn was the leader of the
Country Gospel Group "Outreach" which also did a recording. Glenn has encouraged
many up and coming musicians to continue playing and singing. This was noted at many
talent shows, and coffee house events.
Glenn is our….. "Ray Price of Northwestern Ontario"