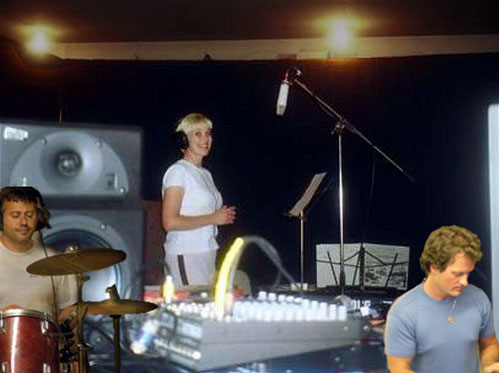 Grown-up Christmas List - Crystal Larocque
Lead Vocals: Crystal Larocque
Percussion: Humberto Pacheco
Programming: Gary Borden
Biography
Crystal Larocque
My love for music started at a very young age. Sitting on my parents bed singing
the famous "Teddy Bear" [Elvis] song while my dad would strum on his guitar. I
knew then that music was a part of my soul…. Music meant everything. Growing up
in a small town, my family would always anticipate the next coffee house, fall fair, and
talent shows. My families push for me to sing, gave me the confidence to sing outside
my bedroom. The church choir was where I learned to harmonize. Singing for many
years in church helped me feel free, singing with everything I had. In 2002 I had the
experience of a lifetime. Flying to Toronto to record two songs that my father wrote
………. "Playing Hard to Get", and "She's My Daughter" I was able to get a small
glimpse of what the pros get to do. Recently, I was honored to help put together one
of the greatest fundraising ideas I had ever heard….. The Sunset Country Christmas
Treasures CD. Singing Amy Grants…"Grown-up Christmas List". I'm having a blast.
So from ages 3 to now, I've had priviledges some people could only dream of. Singing
everywhere from my parent's bedroom, to church, the stage at the Patricia Inn, recording
my father's music, and now Sunset Country Christmas Treasures with so many talented
artists, I truly am blessed.
Gary Borden
Gary is a Dryden grown guy. He started his musical career out by playing drums,
bass and guitar with the Borden Family Band. While living in Dryden he has had many
an occasion to play with Dryden's finest musicians, whether it be at a talent show,
coffee house, telethon, weddings, the Legion , the Moose, or just fun get together.
Moving away from Dryden, Gary has become a seasoned musician who has gained
respect from his peers through his talent, and creativity. He is a graduate of Musician's
Institute of Technology, in Hollywood California, and has played and recorded with
some of Canada's top artists. He has worked with several great producers including
the renown producer Terry Brown. Gary works with artists from Nashville, Tennessee,
to Dryden, Ontario as a guitarist and producer, and is currently working on, Juno nominee
Ray Lyell's next album.