The Christmas Song - Chris & Steve Denby
Acoustic Guitars: Chris & Steve Denby
Arranged by: Chris Denby
Biography
Steve Denby
Steve has been teaching music in the public school system, in Winnipeg, since
graduating from the University of Manitoba in 1989. After working for 12 years
teaching in at Ecole River Heights School, he now teaches at J. H. Bruns Collegiate
where he teaches Concert Band, Jazz Band, Vocal Jazz, Jazz Guitar, Chamber Choir
and Technical Music Production. He has just completed his 5th season directing the
Bison Menís Chorus. Steve started his on-stage musical life at age 11, playing with
his parents and, eventually his younger brother Chris, at social events, dances, and
other celebrations. That would mean that he has been making music professionally with
his dad, "Kenby", for 32 years, and with his brother for 30 years.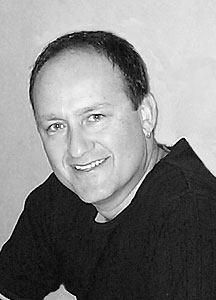 Chris Denby
Chris lives in Fort Frances, Ontario with his wife Sherree and two boys Alex
and Jonathan. He has been in the school system for 17 years, teaching music,
math and computers. Chris takes every opportunity to perform. He has performed
in and arranged musical shows every year since moving to Fort Frances and has
contributed to many recording projects.